Office 365 Online Services and Tools for Professionals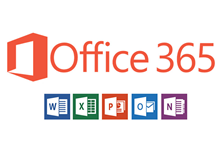 Fostering collaborative work in companies, Office 365 is characterized by its many features and particularly its online services. Indeed, this software suite allows users to access documents stored in the cloud wherever they are. Everything has been designed to meet the sharing and mobility needs of professionals. This is the reason why so many tools are available online. This way, it is possible to use them from a computer, a smartphone or a tablet, at any location (office, station or airport waiting room, customer's premises, etc.). Especially since this solution is very complete, offering various possibilities to its users.
The main services for professionals
One of the key online tools within Office 365 is OneDrive. The latter is dedicated to storing documents and allows you to save files and access them anywhere by connecting from any device – really convenient when it comes to exchanging documents. In addition, it is possible to access files without an Internet connection with this service; most importantly, they are stored safely. , OneDrive being encrypted via SSL. Exchange Online e-mail is fully integrated with this suite. It is hosted in the cloud and in Outlook on user computers. It includes all emails, calendars and contacts, which are accessible at any time, on any medium and also offline.
More specialized tools meeting specific needs
In addition to these two features, Office 365 offers other online software, such as SharePoint, that includes team collaboration tools for creating an intranet.. Content, knowledge and applications can be shared and managed in a few clicks. A social network is also available: Yammer, which facilitates communication and transparency through the creation of communities, the sharing of practices and ideas.
With Stream, companies can make and broadcast videos within their team, both to communicate and to train.
339/5000
Office 365 also includes Power BI Pro, which offers the ability to view data, share files, and collaborate within an organization. Finally, the Teams platform is also available. Really dedicated to teamwork, it simplifies exchanges via conversations, meetings and online calls. Classical or more specialized, these tools are valuable allies for professionals and their online accessibility is an undeniable asset.
Please consult our homepage for more information about our reporting products on Office 365.