Version 10.4 brings report enhancements and performance improvements for Office 365 users
We constantly aim to improve our product and we have worked particularly on the methods used to create and import Office 365 message tracking files in this fourth release of Promodag Reports for Exchange Server v.10. Version 10.4 also brings some report improvements and bug fixes for the benefit of our entire user community.
Enhancements in the Office 365 message tracking file creation and import processes
Although Promodag Reports has been able to create and import message tracking files from Office 365 since version 10.0, we have sought to significantly improve the performance of this process in this new release. See the following blog post for details.
Report improvements
It is now possible to create filters using AND or OR operators in the Find Specific Messages report.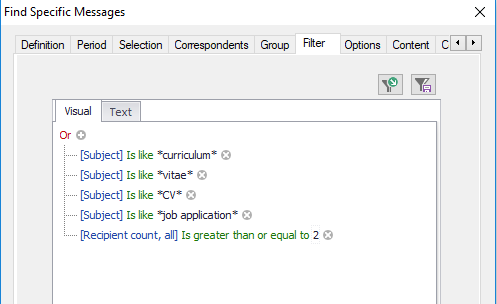 The graph in the Mailbox Storage Information report now only displays the top n mailboxes selected in the options, without taking the remaining ones (the 'Others') into account.
The Permissions on Mailbox Folders report now also displays permissions on the root folder.
Other improvements and bug fixes
SQL Server 2017 is now supported.
Permissions on Mailbox Folders report: Default permissions appeared as Free/Busy instead of None.
Mailbox Storage Information report: Some mailboxes could wrongly be filed in the Does not meet criteria or Inaccessible categories.
If you need further information about Promodag and our products, see our homepage.