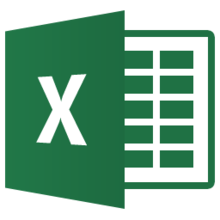 The very first version of Excel was released in 1985 and has evolved over the years by incorporating new features and innovations. Running on PCs, Macs, tablets and smartphones, this spreadsheet software allows you to create digital spreadsheets, graphs, analyze data and do some programming. From the 5th version, marketed in 1993, this tool - intended for the general public and professionals - has met with great success. Today, it is one of the most known and used software of the Microsoft office suite - especially since it now includes the ability to share documents with other people. It has become more collaborative, responding to the needs of users.
A comprehensive spreadsheet software offering many possibilities for users
So, Excel is a spreadsheet with various features providing solutions to individuals and businesses. It makes it possible to carry out operations (like simple or complex calculations), to organize data, and to make graphs and diagrams to present them. It can be used to create tables, spreadsheets and to sort and analyze a lot of data. Its functions are multiple and perfectly adapted to the professionals because it is possible to make links, groupings between information and to transform them into graphics. Its computational capabilities are surprising and facilitate complex data management. Similarly, one can also develop computation models and automate tasks.
Advanced software for analyzing data
Creating a custom table in Excel is quite easy. However, using its advanced features is not always easy, especially when you start. Training is a good idea to discover and learn to use it to avoid wasting time. Likewise, training is the best way to master Excel. And if you are interested, know that it is possible to rent the Office Pack and take advantage of the latest versions and functions.