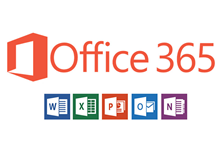 Developed by Microsoft, Office 365 brings together several Cloud services and desktop software applications such as Word, Excel and PowerPoint. Offers are available for small and large companies as well as for individuals. While most of the available tools require an Internet connection, some can be used without it - for example Word. However, a connection is required to synchronize local data with the Cloud and to make periodic backups. Moreover, these tools are accessible on all devices - computer (PC or Mac), tablet or mobile. This set of all-inclusive services perfectly meets the requirements of professionals. It is possible to opt for a subscription and obtain the updates.
A comprehensive set of productivity tools
Office 365 makes you benefit from practical services, whether you are in the office or on the go. As a matter of fact, they can be divided into two categories: on the one hand, office automation software that we all know, particularly Excel and Outlook; on the other hand, Cloud services. You can benefit from the entire package or only part of it depending on the version chosen. With the Office 365 pack, centralization of documents, information and exchanges between users is easily achieved. Data synchronization and sharing become at last an easy affair! Launched in 2010, this Microsoft offer includes web applications as well as desktop software applications. Its flexibility makes it an asset for professionals, not to mention the fact that Office 365 is a highly secured productivity platform.
Collaborative solutions suited to the needs of businesses
Lastly and in conclusion, the Office 365 pack is more extensive than the classic Office suite, all the more so as it has been enhanced by the addition of new features to make it more collaborative. This way, it can meet the requirements of companies that now favor collaborative tools since they simplify teamwork project management and contribute to improved productivity; so it was quite natural for Microsoft to integrate these features in Office 365. Shared calendars, team conversations, HD videoconferencing, document sharing within an instant messaging system, company social network, and a user productivity tracking app are now part of the available options and Artificial intelligence is emerging over time. All in all, Office 365 keeps in tune with the times and has demonstrated its ability to adapt to new uses.
More information about our Office 365 reporting products can be found on our homepage.