Office 365 Mailbox Size and Traffic reports
Office 365 Mailbox Size and Traffic reports
Promodag Reports includes a wide range of Office 365 mailbox size and traffic reports that are far superior to the reports that come with Office 365 Admin Center.
Office 365 Mailbox Size Reports
Promodag Reports features a dedicated group of mailbox size reports that let you go much further than the native reports provided in the Office 365 Admin Center. Its wide-ranging and automated tools enable you to:
Keep a history of Office 365 mailbox size
Calculate the % increase in mailbox growth in a given period

 

Exclusive

List the top Office 365 mailboxes by size
Group mailboxes by size to let you apply relevant mailbox quotas

 

Exclusive

Obtain mailbox statistics about size and number of items
List mailboxes that have exceeded their quota
Warn users that are close to their quota before they get the "Mailbox Size Limit exceeded" message

 

Exclusive

Check the evolution of mailbox size over time to highlight trends
And more generally to go beyond the 'get-mailboxstatistics' command, gather data for later use and enhance your reports
Promodag Reports are attractively laid out, can be automated once set up.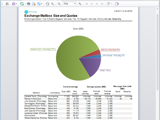 In addition, all our Office 365 reports can be customized and exported to various output destinations, such as a network share, an email recipient or a SharePoint library. Available output formats include PDF, XLSX, CSV and HTML.