A migration wizard in v.12
When upgrading to a new major version, folders and files had to be copied and pasted from the version n-1 directory to the version n directory and, above all, all scheduled tasks linked to batch files had to be deleted and recreated. This was not very convenient and that's why we developed a migration wizard in Promodag Reports v.12 that does all this automatically.             
Step 1
Start by running Promodag Reports as administrator.
This dialog box is displayed if Promodag Reports is detected on the computer in its default location. Click on Continue.
Step 2
A second dialog box appears and proposes to migrate the default configuration file (Repex.pri), the batch files and custom reports (.prb and .pro) and any scheduled tasks used to launch them in batch mode.
Here are the options we recommend:
Retrieve the main configuration file: Recover paths, accounts and encrypted passwords, server names, etc.
All files: migrate custom reports and batch files
Migrate existing tasks and then disable them: Clone the scheduled tasks created in v.11, adapt them to v.12 and then disable the original tasks.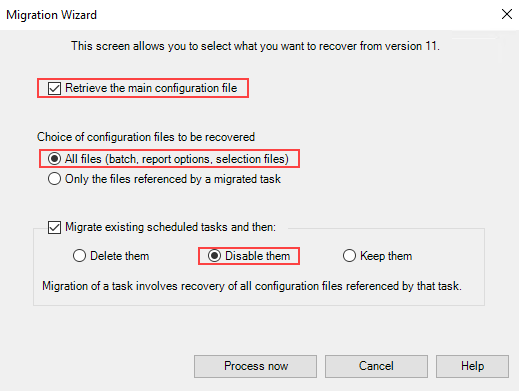 Once these operations are completed, Promodag Reports will propose to open and convert the last database opened in version 11. All you have to do is apply the v.12 license file and accept the database conversion.
You are done!