Manage Scheduled Tasks in Promodag Reports v.12
Among the usability improvements in Promodag Reports v.12, we have added the ability to run, end, enable and disable scheduled tasks. It is also now possible to change the priority from the product interface. Now we will review these new features and show their benefits for the user.
Launch scheduled tasks from the interface
In previous versions, Promodag Reports allowed you to simply create and delete scheduled tasks. You had to go to the Windows Task Scheduler to test a scheduled task or to enable it. Following feedback from some users, we decided to add buttons to enable, disable, start and stop scheduled tasks created by Promodag Reports. You now have not only an overview, but also full control over these items.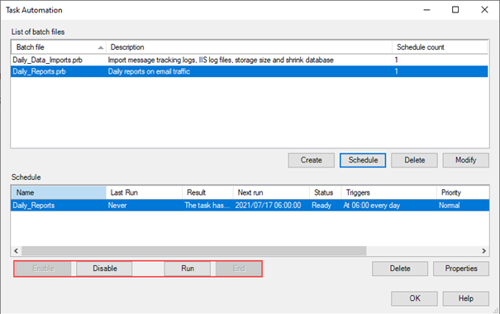 Change the priorities of a scheduled task
We were recently faced with an unknown situation that led us to add a feature to manage the priorities of scheduled tasks. A Promodag Reports user whose SQL database was also hosted on the same machine had observed a considerable degradation in data import performance. A careful study of his logs and the Event Log allowed us to deduce that the SQL backup was using most of his server resources to the detriment of the scheduled Promodag Reports import task. We were able to solve this problem by asking him to export his scheduled task, edit it to change its priority from Below normal to Above normal, and then re-import it into the Task Scheduler.
Since this export and import process in xml format is not very intuitive, we added a drop-down list to choose the priority of a scheduled task:
Real time: not to be used to run imports or large reports.
High
Above normal: recommended priority in case of slowdown due to to the running of other processes.
Normal: default value for tasks created with Promodag Reports.
Below normal: default value for tasks created with the Windows Task Scheduler.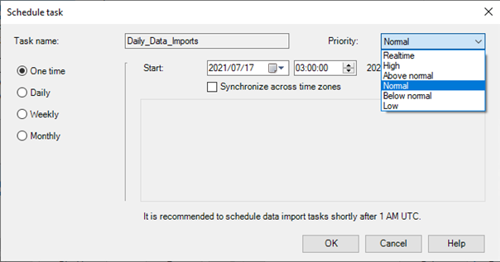 Conclusion
We have tried to finalize our task automation module by improving it and making it a little more intuitive than the Windows Task Scheduler, and we hope you will find these changes useful.