New report on Recipient Management Statistics
We have created a new report in the Organization Overview category: Recipient Management Statistics. It is a graphical report that shows the number of mailboxes and users created in a time interval, as well as the number of modified users.
These statistics are compiled from the data regularly collected during the import of the directory by means of the Get-Mailbox and Get-EXOMailbox commands. The related attributes are: 
•    WhenMailboxCreated : indicates the creation date of a mailbox 
•    WhenCreated : indicates the creation date of a user
•     WhenChanged : indicates the modification date of a user.
Select the data to be displayed
The report has the classic Period tab to choose the date range and time interval, and Selection to choose the Exchange recipient type: Mailbox, Public Folder, Distribution Group and Mail Contact.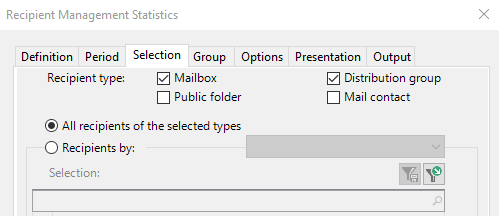 In the
Options
tab, you can define the type of data to be displayed in the report: mailbox/remote mailbox creation date, recipient creation or modification date.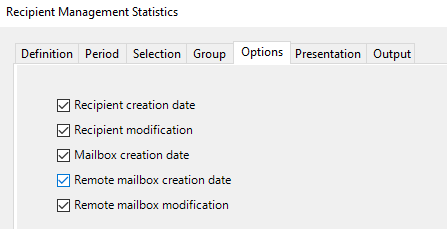 Use cases
For example, it would be relevant to run a report showing the rate of creation of mailboxes during or at the end of the migration to Exchange Online, by selecting the recipients by organization type ("Office 365") and then grouping them by Recipient Type Details (User Mailbox, Shared Mailbox...). You will then get a graph by Exchange recipient type.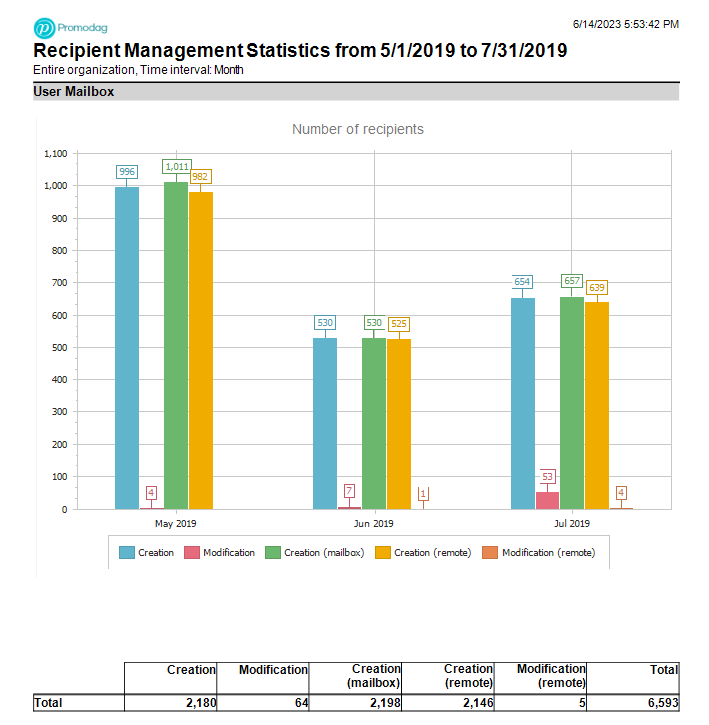 Conclusion
This new report should complete the range of reports for those of you who have just migrated to Exchange Online or are about to do so, see previous articles How to list stale resources in Exchange and Office 365 and Measure Office 365 adoption and detect trends. The latest version of Promodag Reports is available on our downloads page, and you can send us a message through our contact form if you have any business or technical questions, or if you want to submit a support request.