Version 10.1 is available and introduces branded reports
Here is a quick list of the improvements introduced in Promodag Reports v.10.1.
Reports can now be branded to display your own logo
You can now add your own logo to reports by loading it in the Reports tab of the Tools > Options menu. Supported formats are Png and Gif and the recommended size are 250x250 or 200x150 depending on the logo's shape.

Once you have done this, all generated reports will display your logo in the upper left-hand corner of the report.

On-Premises to Office 365 migration awareness
The directory import that follows the migration of a mailbox from On-premise Exchange Server to Office 365 detects this situation and makes the following adjustments:
The old On-premise mailbox becomes a Remote Mailbox.
A new Office 365 mailbox is created, and a link is made between the Office 365 recipient and the On-premises user.
Thanks to this link, selections of recipients created before the migration can still be used and are converted on the fly: the old On-premise mailbox is replaced by the new Office 365 recipient. The same applies to mailboxes selected by distribution group.
A tool that provides the ability to move the previously imported traffic and storage data from the old to the new (migrated) mailbox is now delivered with the product.
A context menu lets you navigate between Office 365 recipients and their On-premise counterparts.

Export reports to SharePoint 365
A new Export tab provides the ability to configure the SharePoint export destinations at application level, and it is now possible to use SharePoint for Office365.

Export reports data into foreign SQL database
It was already possible to export reports raw data into the current database in version 10.0. With version 10.1, it is also possible to use any SQL Server database. You can define it at the application level in the Export tab of the Tools > Options menu.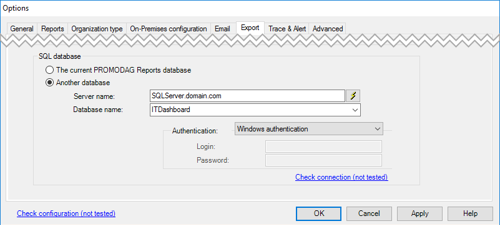 As for the database table, it can still be selected in the Output tab of the report.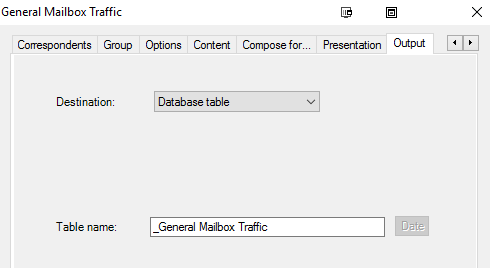 Quickly find recipients by name across the entire Exchange organization
Use the new search box in the Organization tree to quickly find recipients by name across the entire Exchange organization. Add * for a search based on partial match. A counter displays the number of matching recipients, and arrow buttons let you navigate between them.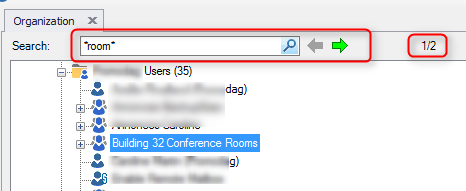 Report on users' phones and mobile devices
Use the new Recipients Mobile Devices report to collect information on mobile devices linked to recipients, such as their type, model and operating system.

Report on Meeting Room mailboxes occupancy rates
The new Calendar Item Search report allows you to get an overview of appointments and meetings and calculate the occupancy rate of Meeting Rooms based on custom-defined office hours.

Other improvements
Faster message tracking data gathering.
Improved identification and description of recipient types, such as User, Equipment or Shared mailboxes.
Clear identification of Resource Mailboxes, such as Meeting Rooms or Equipment Mailboxes, by means of specific icons.
New capability to generate Traffic Statistics and Mailbox Traffic reports based on public folders, distribution lists or contacts, and not only mailboxes.
For more information about our products, see our homepage.