Create an email aging report to prepare message archiving
I am wondering if Promodag Reports can provide an e-mail aging report. 
For example, we would like to identify how many messages, in each database, are older than 6 months of age.  Ideally, we would have a graph with the X axis being the number or months (ago) and the Y axis representing the item count. This information would be useful when preparing for archiving.
Answer:
The report template you need is called Item Breakdown by Age, and you will find it on the Templates > Mailbox Content  menu. This graphical report displays a histogram of items contained in selected mailboxes and broken down by age. Information is dynamically collected through a dynamic connection to the Exchange server.
You would apply the following settings:
Selection tab: All organization mailboxes, or Mailboxes by, Database (where you will then select some particular DBs).
Group tab: Level 1 = Database.
Folders tab: All folders.
Intervals tab: you may define your own age intervals.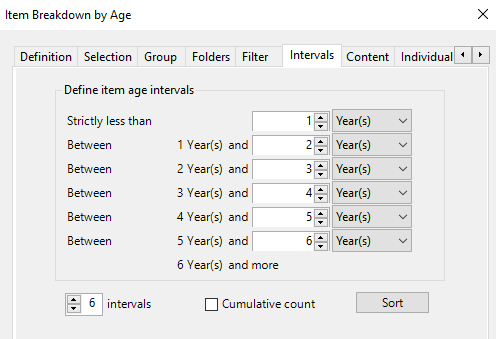 Filter tab: you may select all types of items, i.e. mail, note, contact... or only some of them.
Content tab: you may want to see whether all selected mailboxes match your criteria, or if some of them are not accessible. 
Output tab: Your own choice (Screen, Printer, Disk file, Email recipient,Sharepoint, Database table).
You will finally obtain a report similar to this one: