What's New in Version 11.1
Promodag Reports v.11.1 is available for download. The installation of this minor version involves updating the database for existing customers. However, this process is fast and should complete within a couple of minutes. Version 11.1 includes several significant changes, interface improvements and new canned reports.
EWS replaces MAPI
The integration of EWS into the Promodag Reports interface is now complete. All processes that were still using MAPI were removed from the program. This new method is compatible with all versions of Exchange on-premise up to and including Exchange 2010. The main advantage of this change is that it allows customers with large Office 365 tenants to launch Promodag Reports in 64-bit mode and import their directory more quickly and without memory overflow errors.
Performance improvements
The PowerShell commands used in the Office 365 directory import process have been revised to make it faster. The method used to import the Office 365 tracking logs has also been improved. Finally, these tracking logs now also contain quarantine email messages and those that were sent, but not delivered. It will be possible in a future version to explicitly isolate these messages.
Revamped and enhanced reports
The old Permissions on Mailboxes report has been entirely rewritten and renamed Mailbox Permissions. It lists all the mail-enabled users – including groups - that have specific permissions on the mailboxes selected in the report: Full Access, Send on Behalf, Send As. For a more detailed information about this report, see this blog post.
Message filtering options by correspondent level (To, Cc and Bcc) have been restored in Find Specific Messages. On this opportunity, the method that allowed this filtering was reviewed in order to make it more resource-efficient during the execution of the report.
User interface enhancements
Canned reports saved as Favorites can now be displayed in the left panel of the application, or Report Explorer.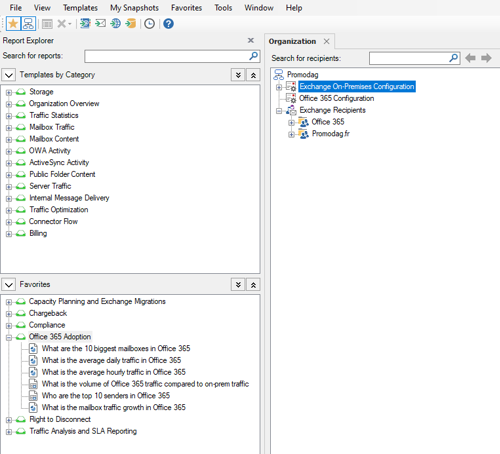 New canned reports
About twenty custom reports have been added to the Favorites menu. These new items use the latest features added to the product, such as the ability to select shared mailboxes or Office 365 mailboxes with a single click. Like existing Favorites, they address questions that may be of interest to our user community: What is the occupancy rate of our Meeting Rooms? What is the average daily traffic in Office 365? Who has delegation on shared mailboxes?
Newly supported systems and platforms
Promodag Reports v.11.1 supports Windows Server 2019 and SQL Server 2019.
The support for Exchange 2007 has been discontinued. However, previously imported data will continue to be available in the reports.