Create a report on traffic for a specific mailbox, a group of mailboxes, or the whole organization
Question:

I would like to run a report on messages sent and/or received by a particular user, a group of mailboxes, or by all users in my organization. How do I do that ?

Answer:

You should use the General Mailbox Traffic report template, that you will find on the Templates > Mailbox Traffic menu, and apply the following settings:
Period tab: Select a period for your report.
Selection tab: Recipient type: Mailbox, Recipients by: Display name (or Server, Organizational Unit, Department...). This is where your will select one or more user mailboxes, or all mailboxes in the organization.
Correspondents tab: You may either display all address types, or only some of them (e.g. Correspondent type=Internal for internal traffic, Correspondent type=Internet for external traffic).
Options tab: Count messages sent to n recipients, once.
Content tab: This is where you will select the detail level of your final report. The more check boxes you select, the more detailed - and the longer - your report will be.

Under Detail level for the selection, select Totals only to get a one-line report, an overview of your email traffic.
Select Recipient to show the display name of mailboxes, and their individual traffic.
Select Message subject line to display the subject, size, and date/time sent or received of all messages included in your report.
Under Detail level for correspondents, select Correspondents' address type to also qualify this email traffic (Exchange, Internet...)
Select Correspondents' domains to display the correspondents' SMTP domains (for Internet traffic: e.g. yahoo.com...).
Select Correspondents to display the correspondents' SMTP addresses (Internet traffic) or their display names (internal traffic).
Under Messages, select Sent or Received or both depending on your needs.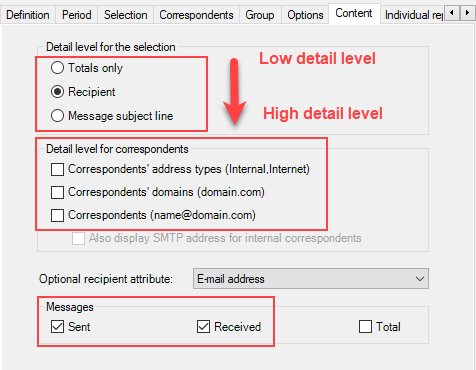 Optional recipient attribute may be set to E-mail address, for example. 
Presentation tab: Choose a title for your report, and a size unit (MegaBytes for example).
Output tab: Your own choice (Screen, Printer, Disk file, Email recipient, Exchange folder, SharePoint).
Related article: How do I obtain a report on traffic between two groups of mailboxes - or two mailboxes?