List mailboxes that are over their quota
Question:
Is there a report that will show a daily list of users who have exceeded their quota?

Answer:
The most appropriate report template would be Mailbox Storage Information. You will find it on the Templates > Storage menu. 

You will apply the following settings:
Selection tab: All organization mailboxes.
Group tab: Level 1: No grouping.
Filter tab: Storage limit status Equals Issue warning, Prohibit send.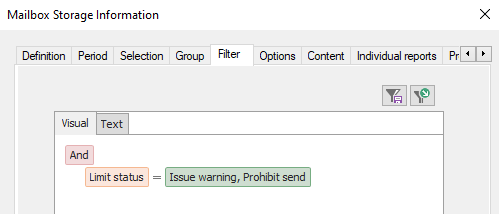 Options tab: Tabular data selection: make sure the Show only check box is NOT selected; Sort by: Item size, Descending.
Content tab: Detail level: select Mailbox Storage, quotas and limits, and select an optional mailbox attribute (such as Email address or Department) if you wish.
Presentation tab: Display: Table; Size in KB.
Output tab: Your own choice (Screen, Printer, Disk file, Email recipient, SharePoint, Database table).
See also: