What's new in Version 12.0
The Promodag team is happy to announce the release of Promodag Reports version 12. This new version contains important performance improvements for customers whose mailboxes are hosted in Office 365 as well as those who use public folders.
Advanced support for Office 365, new database format
Support of the PowerShell Exchange Online V2 cmdlets
A serious bottleneck has been eliminated in Promodag Reports v.12.  As announced in a previous article, we implemented the Get-EXORecipient and Get-EXOMailbox commands in the beta version of Promodag Reports v.12 and sent it to some customers.
The results are conclusive as this table shows:

Importing the size of mailboxes from Office 365 takes 4 to 8 times less time than before. This new feature is particularly aimed at large Office 365 tenants but should prove beneficial for all customers with hybrid environments or fully hosted in Exchange Online.
Compatibility of content reports with modern authentication
We have also ensured that EWS can access Office 365 mailboxes when Modern Authentication is enabled. This feature requires authorization of Promodag Reports in Azure Active Directory using an Office 365 administrator account. This procedure is simplified by an automatically generated link if the application detects that it is not among the authorized enterprise applications.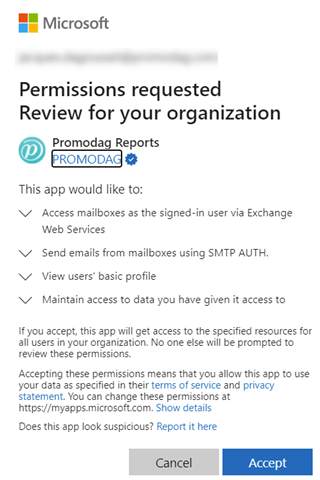 Support of Office 365 GCC High environments
Promodag Reports can now connect to Office 365 environments such as US Government GCC High and DoD as well as Microsoft 365 Germany and Microsoft 365 operated by 21Vianet. Just choose it in the Office 365 Connection tab of Tools > Options.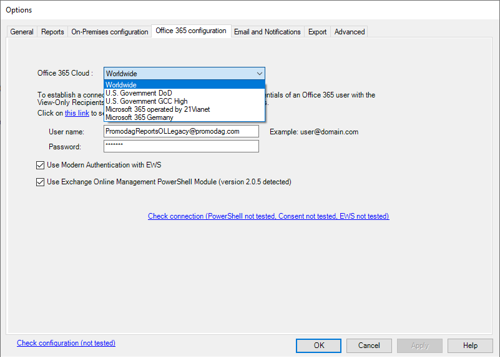 New database format
Promodag v.12 uses a new database format for the Standard and Professional editions instead of the Access 2000 format: SQL LocalDB. This is a special version of SQL Server Express that can be installed on the console at the same time as the reporting tool. The main advantage of its use is the maximum size its databases can reach: 10 GB instead of 2 GB for Access. It is no longer possible to create new Access databases, but existing databases can still be opened.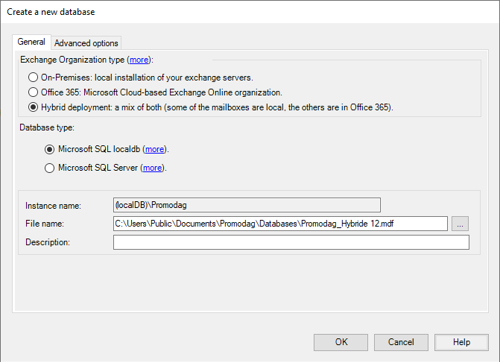 Migration Wizard
Promodag Reports detects your v.11 configuration at startup and offers to migrate it to v.12, including scheduled tasks. To do so, you will need to run the application as administrator. See this blog post.
Default 64-bit mode
Replacing MAPI with EWS and replacing Access with LocalDB no longer requires maintaining the 32-bit version of Promodag Reports as the default executable. As a result, Repex.exe is now compiled in 64-bit. A 32-bit executable is delivered to allow the use of previously created Access databases: Repex.exe.
Improvements in data imports
Promodag Reports now identifies the type of your public folders (legacy, modern Office 365) as soon as the directory is imported and stores this information in the database. In addition, the methods used to import the size have been improved to allow the processing of large quantities of folders.
Another important change is that the tracking log files import mechanism now uses local time as a reference instead of UTC time. For a customer located in the EST time zone (UTC - 5 hours), this means that imports defined up to yesterday's date will be made until 00:00 EST and not 00:00 UTC, i.e. 19:00 EST.
We have also ensured that notifications sent by Exchange when an appointment created in the Calendar is accepted or rejected are excluded from the traffic reports.
Improvements in reports
We have also improved our reports. The Calendar Item Search report now displays recurring meetings.
Most importantly, it is now possible to export to a CSV file or a database table all the attributes of an Exchange recipient, even those that do not appear in the screen output of the report. This change will greatly facilitate the work of a user wishing to attach the output file or table with other files or tables in order to cross-reference the data. ​See this blog post.
Other improvements
Finally, the Task Automation module not only allows you to enable, disable, start and stop scheduled tasks, but also to define their priority. This last feature will be particularly useful for customers who have installed Promodag Reports and SQL Server on the same machine. See this blog post.