Outlook the Microsoft Professional Email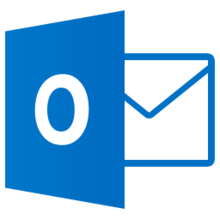 Part of the Microsoft Office suite, Outlook is primarily an email client. However, it also offers other features to facilitate the work and organization of professionals; it includes a calendar and provides the ability to group and manage contacts as well as sharing files in the Cloud. Everything is grouped together in a single location, which makes it more convenient and easier to manage the information. Outlook is user-friendly and improves productivity as it is accessible online, both on a tablet computer. Using the software is not complicated, however it may be necessary to learn how to use it properly to take better advantage of all its features.
An ideal email client for professionals
Outlook is both an email application and a task and information manager. Available for Windows and Mac, it makes the management of e-mails easier. The inbox can be customized based on user needs. Of course, it is possible to perform common tasks such as sending an e-mail, attachments and creating an electronic signature. Outlook also allows you to create folders to effectively organize messages, schedule their sending, organize meetings by booking rooms and coordinating schedules. In fact, it perfectly meets the needs and requirements of professionals, both small and large companies.
A fairly comprehensive tool available on all media
Like other Microsoft solutions, data exchanged and stored in Outlook is secure and protected. It is possible to connect at any time, from a mobile, tablet or smartphone, either from the web interface or from the application. Outlook has been significantly improved since its first release in 1992. The latest versions incorporate smarter features that anticipate the future needs of users. And to top it off, it promotes collaborative work and can help you organize better on a daily basis. A useful product which it would be a shame not to take advantage of!