Generate an email response report
If you sell your products on the web or have a list of customers who rely on your services, you may already know that responding quickly to emails is of utmost importance. Your ability to process orders, answer questions and address technical issues in a timely manner has a direct impact on your reputation, customer feedback and prospects of gaining new clients. How to get an email response report to check whether Customer Care or Sales agents actually meet the corporate Service Level Agreement of n % timeliness? In other words, are all received emails answered within the agreed time limit, or does it take too long? 
Get the average response time to emails
You can easily obtain this information with our Message Response Times report, in the Mailbox Content category. This report searches the content of mailboxes and it works for both on-premise Exchange and Office 365. Just select the agent mailboxes or the shared mailbox they use, select one or more Outlook folders, set the detail level to Mailbox and click OK.

The report shows, for each mailbox, the email response rate and response time:
Number/percentage of items without any action,
Number/percentage of items marked as Reply or Reply to all,
Number/percentage of items marked as Forward,
Number/percentage of items not marked as Read,
along with the average time to answer/forward the message.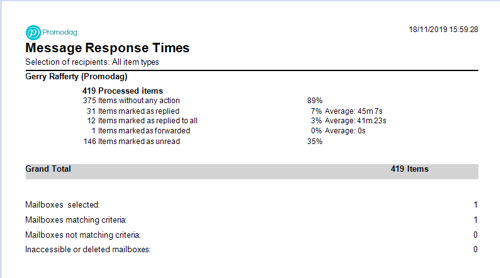 Get the response time per message
The report can also drill down to the message level; simply set the detail level to Item. Each message is listed individually with its Delivery timestamp and Subject line along with the last action performed on it (Forward, Reply, Reply to all) and the delay between message delivery and last action.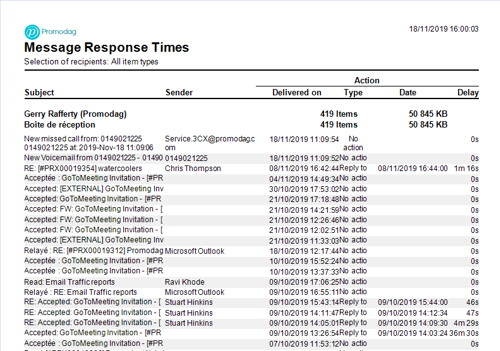 Produce a graphic summary of email response time
To get a graphic overview of the main actions performed on messages, run the Message Breakdown by Response Time report, also in the Mailbox Content category The graph breaks down response times per action (Forward, Reply, Reply to all).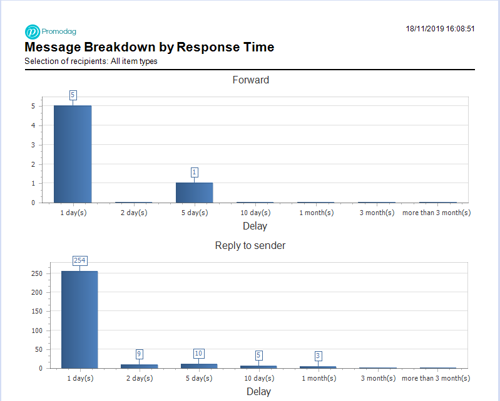 Track your KPIs with Promodag Reports
Customers usually expect their emails to be timely answered and Promodag Reports can help you ensure that you meet the SLAs. Interested in improving email productivity in your business? Good news - we offer a free 45-day trial of our product! Download Promodag Reports and see for yourself. If you would like to contact us for any other sales inquiry or support request, please feel free to use our contact form.