Version 10.2 comes with new Report-Formatting features
Style your reports
Version 10.1 of Promodag Reports for Exchange Server already provided the ability to add a logo to reports. We have addressed the matter of report formatting more generally in version 10.2 by adding the ability to apply styles to different report areas. To do this, a stylesheet must be applied to reports. It can be created using the new built-in Style Editor we have added to the application.
Read this post to find out how to use this new feature
Improved readability
Along with the implementation of user styles, we also have improved the readability of reports by allowing alternate styles between the even and odd detail lines. This makes reports more reader-friendly.
An example is better than a long speech, so this is what it's all about: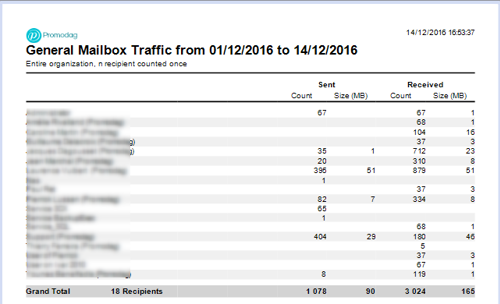 Choice between 2 graph types in 8 more reports
The following reports now enable a choice between two types of charts - histogram and curve or pie chart:
You can make this choice in the Presentation tab of the report: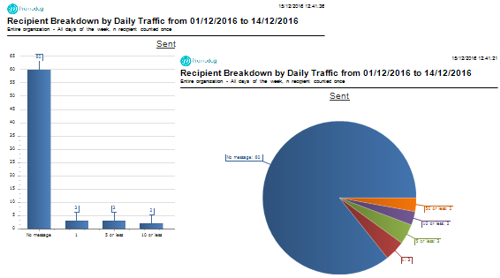 New Inter-Group Traffic report
Have you ever wanted to know which groups of mailboxes communicate the most with each other? If the answer is yes, then this new report is for you because it displays the number of messages exchanged between 2 groups of mailboxes both in a table and in a graph.
In the example that follows, the selection of mailboxes is grouped by Department and the report shows the level of exchange between Departments.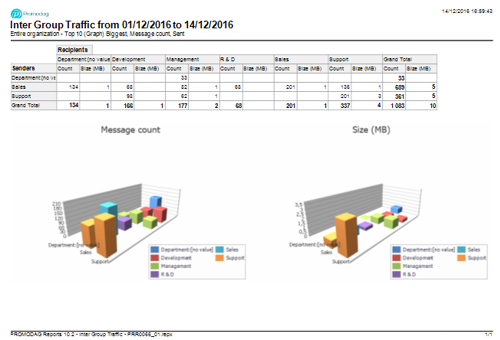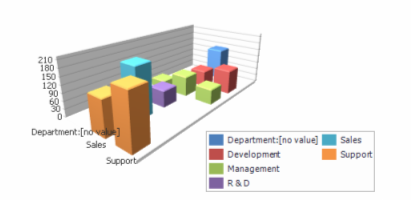 Looking for more information on our products, and what we are about? See our homepage.